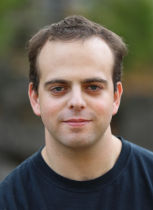 About me
Since Decem­ber 2014, I am a PhD stu­dent in Com­pu­ter Sci­ence at the Chair for Lo­gic and Ver­i­fi­ca­tion. Since 2018, I am also an ed­itor of the Archive of Formal Proofs.
I mainly work on the for­mal­i­sa­tion of pure math­e­mat­ics in Isa­belle/­HOL. I be­lieve that the form­al­isa­tion of a sig­ni­fic­ant por­tion of known math­em­at­ics is a feas­ible and worth­while en­deav­our.
My cur­rent work is the form­al­isa­tion of the (semi-)auto­mat­ic solv­ing and veri­fic­a­tion of cer­tain classes of math­em­at­ic­al prob­lems, par­tic­u­larly those of the asymp­tot­ics of real-val­ued func­tions.
Mathematical Interests
With vary­ing levels of pro­fi­ciency:
Com­plex ana­lysis
Dis­crete math­em­at­ics, com­plex­ity ana­lysis, ana­lytic com­bin­at­or­ics, ana­lytic number the­ory
Ab­stract al­gebra and cat­egory the­ory
So­cial choice the­ory
De­cision pro­ced­ures
Pro­gram­ming lan­guages, func­tional pro­gram­ming, type sys­tems, and pro­gram veri­fic­a­tion
Current Work
Analysis of Randomised Algorithms and Data Structures
Semi-Automatic Real Asymptotics in Isabelle/HOL
Formalisation of Tom Apostol's Introduction to Analytic Number Theory
Continued Fractions
Drafts
Publications
Theses
Isabelle Formalisation Projects
See my separate
list of formalisations projects
.
Teaching
Random stuff I made
A small Haskell-based text snippet pasting service with Isa­belle high­light­ing
A very small (∼250 LOC not counting GUI), on­line in­ter­ac­tive ray trac­ing demo in Java (with com­mented source code) that il­lus­trates the process of ray trac­ing. I made this when I was a BSc student and it fills me with nostalgia, so I leave it on here.
Speaking of nostalgia: A raytracer in Java that I wrote as an en­try to a uni­ver­sity cod­ing con­test in my first semester. This won me a nice graph­ics card. ☺
Personal Interests
Learn­ing lan­guages, lin­guist­ics, and phon­et­ics
In par­tic­u­lar: learn­ing and speak­ing Es­per­anto (

bon­volu kon­tak­ti min se vi vo­las pa­ro­li Es­pe­ran­ton kun mi

)
Bouldering and climbing
Play­ing the ac­cor­dion and the low whistle
Recommended links