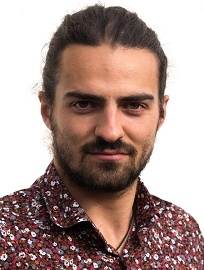 I studied computer science, with mathematics as minor subject, at the TU München from 2009 until 2015. From October 2016 to February 2021 I was a Ph.D. student at the Chair for Logic and Verification.
My interests are mainly formalizing mathematics in higher-order logic and verifying software upon this. I'm also interested in processing of natural language proofs. My current work mostly is related to the Isabelle theorem prover and verified analysis of algorithms.
Publications
Dissertation
Journal Articles
Conference Proceedings
Archive of Formal Proofs
Master's Thesis
Bachelor's Thesis
Projects
Supervised Students

Bernhard Pöttinger - MA - Verification of the Flow Framework from "Local Reasoning for Global Graph Properties"
Christopher Aßmus - BA - Testing with a Verified Oracle: Generating Inputs with Fuzzing
Benjamin Rickels - BA - Testing with a Verified Oracle: Developing a Framework and Generating Test Cases via Symbolic Execution
Simon Griebel - MA - Verification of the Decrease-Key Operation in Fibonacci Heaps in Imperative-HOL
Fabian Hellauer - MA - Verification of an Approximation Algorithm for the Metric Travelling Salesperson Problem
Adrián Löwenberg Casas - BA - Proof of the Amortized Time Complexity of an Efficient Union-Find Data Structure in Isabelle/HOL
Daniel Stüwe - MA - Verification of Fibonacci Heaps in Imperative-HOL

Proving for Fun
At Proving for Fun we host proving contests and homework submission (in Isabelle). Feel free to solve the problems, spread the word and give feedback.
Collaborative Proving Projects Teaching